The Institute de recherche et coordination acoustique/musique, IRCAM, on October 10th and 11th hosted in Paris the Demo Days, two live and in person days organized by MediaFutures, a project, supported by the European Union's Horizon 2020, which aims to contributing the restore of high-quality media activities through an innovative approach. It has been recognized that Data and advances in Artificial Intelligence (AI) have the potential to increasingly help online information users by identifying and isolating the disinformation phenomenon within the digital ecosystem. In this context MediaFutures is currently supporting over 51 startups and 43 artists and during the Demo Days the award-winning startups and artists presented their works consisting in tracks' arts for media, startup meets artists and startup for citizens and a jury of experts declared three winners, one for each track.
Hugues Vinet, the director of Innovation and Research Means at IRCAM and the artist Gaëtan Robillard opened the discussion by presenting the "Critical Climate machine" An award-winning project that quantifies and reveals the mechanisms of misinformation on global warming. Using Artificial Intelligence, the sculpture analyses myths about climate change and its software monitors and debunks fake arguments coming from Twitter, using a natural language processing model.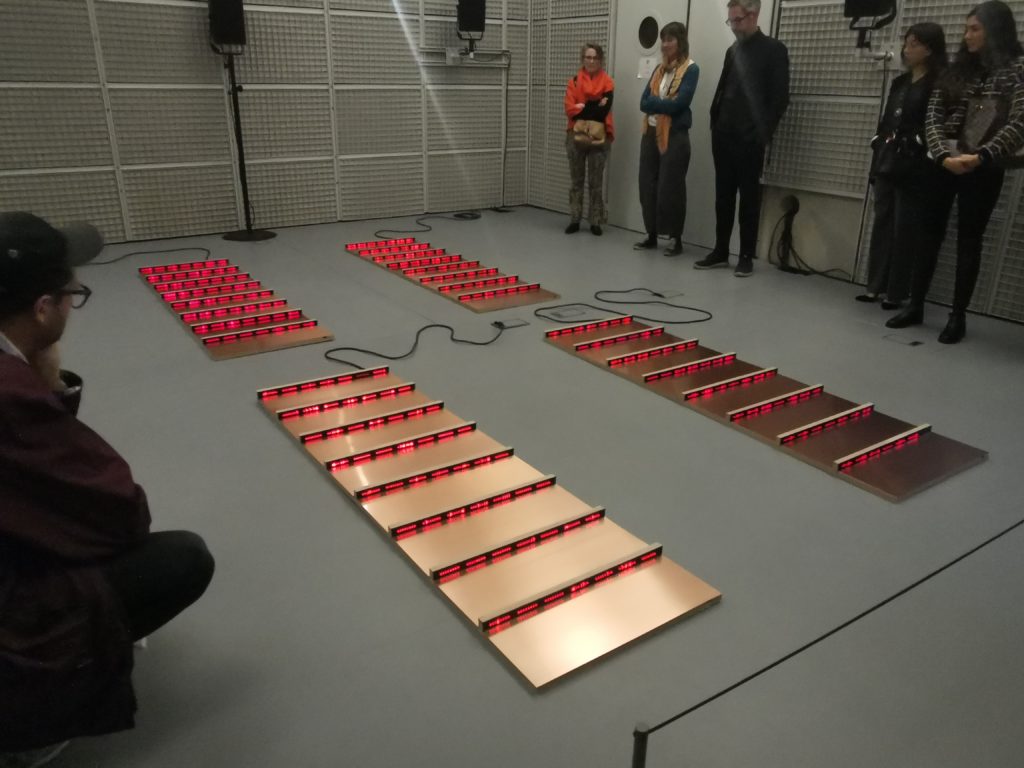 Elena Simperl, professor of computer science at King's College London during the event spoke about the role that data can play in designing a better way to tackle misinformation, and how the social construction of data matters to our ability to use Artificial Intelligence effectively in fighting this challenge. According to professor Simperl, working with data is a challenging. She claimed: "the way the data is produced is not transparent or accountable. Algorithms need to detect biases and mitigate for them. Trustworthy data is costly, especially when new data must be collected".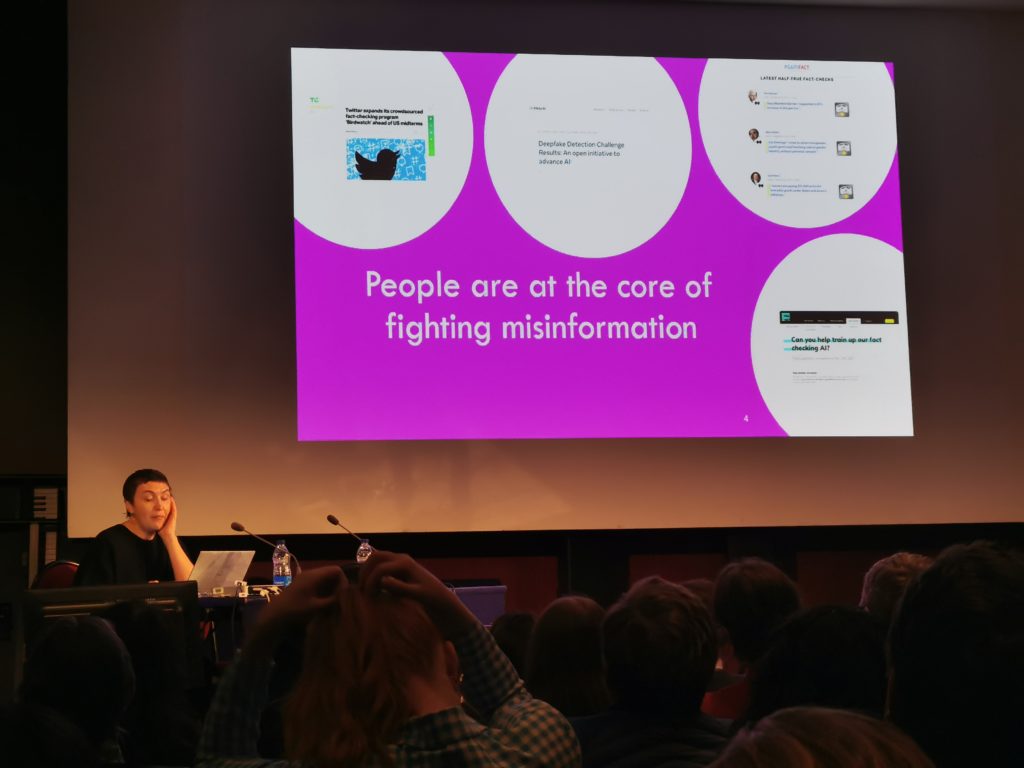 Gianni Riotta, Director of Data Lab and School of Journalism at Luiss Guido Carli had a speech on trust in news media and misinformation: "Facts remain robust when they are supported by a common culture, by institutions that can be trusted, by a decent public life, by somehow reliable media news to believed depends less on its veracity than on the conditions of its construction".
He also highlighted that the technical tools and political strategies deployed against the disruption of civic conversations are debunking, AI, sources evaluation, social media platforms' self-checking, code of conducts, governments ad hoc rules, quality journalism boosting.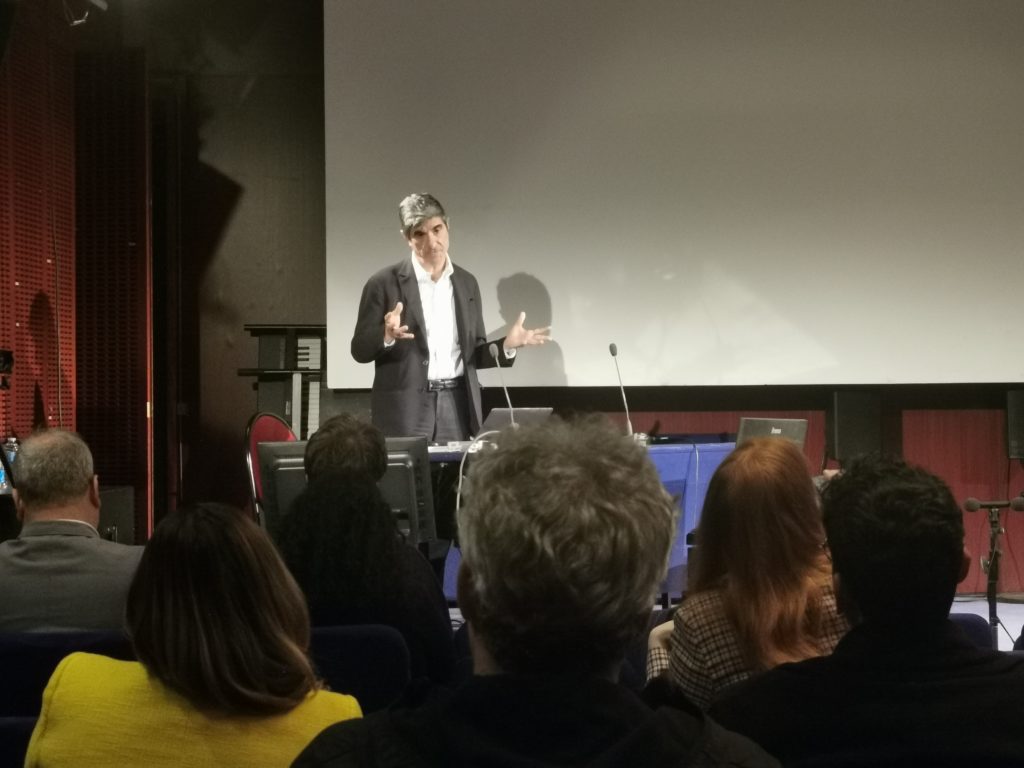 During the days were presented 11 different projects: Projects | Media Futures.
-"Edit Wars", an interactive artistic project based on an analysis of media publications regarding the growing of the militarization and manipulation of mass consciousness in Russia realized by Alberto Harres, Maiia Guseva, Slava Romanov and Sofya Ozga a group of data journalist and artists. Edit Wars is based on the analysis of headlines in the Russian-language online media. They collected data using machine learning and the results were that the key groups of propaganda narratives are anti-Ukrainian, pro-Russian and anti-Western. The main format will be the website with interactive visualization of the data and the insights. It will serve as a source for the projection of interactive installation that will be made, considered to be interactive in terms of the timeline. It should be possible for the audience to move through the time and see which events are appearing and which news outlets are surrounding these events and how do they describe those. They believe that "developing critical thinking and the ability to resist manipulation will help keep things sane".
-Kaisa Molga a designer fusionist, artist and environmentalist presented "How Many Heartbeats to Send a Love Email?". Her project offers a new narrative about energy consumption and digital data through an interactive experience engaging our own body energy. The aim of her project is to promote awareness on digital pollution caused by fake news and infobesity and to question the intimate relationship with data.
-Mark Farid, artist and lecturer in fine art, presented "Invisible Voice" a free browser plugin that reveals key information about websites that users visit, to empower individuals to male informed decisions and fight disinformation. The goal of Mark is developing, testing, iterating, and launching a non-intrusive browser plugin.
-Michael Wallnger presented "Synthetic Identity Speculations". A participatory artistic research project that explores the potentials of synthetic data and data scraping to trace and cross-reference the impact of agency on aesthetics, iconography, choreography and authenticity. His project monitors individual synergy of social network algorithms and their impact on body images.
-Mihály Kornai presented "The more the better (two truths and a lie)" a multimedia installation exploring the relationship between foreign languages, mother tongues and trustworthiness. According to his recent research individuals are significantly more likely to trust information when it is provided in their native language.
-"MindBugs" is a project to combat misinformation and disinformation with the help of art. The Oracle Network team is composed of full-stack developer, one artificial intelligence researcher, a visual artist with a background in philosophy and anthropology and one game artist. "We want to do our part to change people's perception of fake news, as in general, such news is emotional and captivating, which makes the readers/listeners instantly impressed and automatically believe it. Generally, the debunks of the fake news are written in formal and harsh language and this makes the readers stick with the idea that the fake, but emotional news is the true one or at least it remains in the reader's mind for a longer period. We aim to make debunks more attractive and friendly and, in order to achieve this, we thought of transposing them into an augmented game".
-"Time-Lapse Migration" intents to counter existing misinformation and disinformation on migrant phenomenon and give direct voice to refugee artists. The startup La Tempesta together with the creative studio Varvara & Mar presented their metaverse museum on war disinformation. "We want to have a real impact on society and individuals in achieving a transformative and emotional user journey and for cultural institutions by hosting a fair trade alternative for refugee's artwork and help financing NGO's".
-"DOPPELGÄNGER", is a collaboration between documentarist Michael Madsen and Kaspar a deep learning company. Their aim is to change laws and practices surrounding CCTV and to draw into question the neutrality and trustworthiness of images recorded by a machine in an age where deep fake technology is widespread.
-Katalina Maievska presented "Ochi", a gamification of media literacy in Ukraine. Ochi is an edutainment app with the aim promote quality content and educational, for children and new generation. It offers a selection of games and tests. The app's main feature is a personal dinosaur in AR, which sustains on systematic involvement with the app and grows together with the user's knowledge.
-"Factiverse – searching for the truth" is an artificial intelligence driven tool to accelerate research and fact checking and promoting credibility. The CEO and co-founder Maria Amelie said: "We live in a time of information overload. Roughly 60% of the planet is online today, and every year there are 300 million new users joining online. This has a huge impact on the amount of information that is posted, searched for, and spread every second". The aim is to equip journalists and content creators with patented AI-driven solutions that help them to do their best work faster and prevent the spread of misinformation. We provide automated detection of misinformation and a credibility check for any online information by using cutting-edge Artificial Intelligence (AI) and Natural Language Processing (NLP).
-"Citizens economy dashboard" by Economy it is a project that aims to re-envision the way economic data is reported, and tackle misinformation. The project puts communities at the heart of tackling this challenge. They will employ participatory methods to work with the public to re-envision the way economic data is reported in United Kingdom. The project will hold space to challenge what data is considered 'important' and explore.